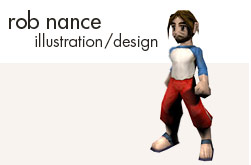 have been working as an illustrator/designer for over 6 years and I have extensive experience creating editorial and technical illustrations, 3D models, and designs for print and web.
Online Resume Links
Downloadable Resumes

word document


pdf document

professional profile
On demand character design to spec from preliminary sketches to finished fully articulated 3D model.
6+ Years of publishing / technical illustration / illustration / design / 3D Modeling experience.
Creation of of vector and pixel based technical illustrations for use in textbooks / technical publications.
Extensive knowledge of print and advanced Pre-Press issues.
Excellent understanding of typography for print and the web.
Creation of traditional editorial illustrations in a wide variety of styles including cartoon, abstract, figurative, 3D, etc using a variety of traditional and digital media for print and the web.
Excellent creative resource, able to work with limited direction.
Extensive experience automating repetitive tasks through scripting, batching, and the creation of custom applications.
23 years of video game playing experience.